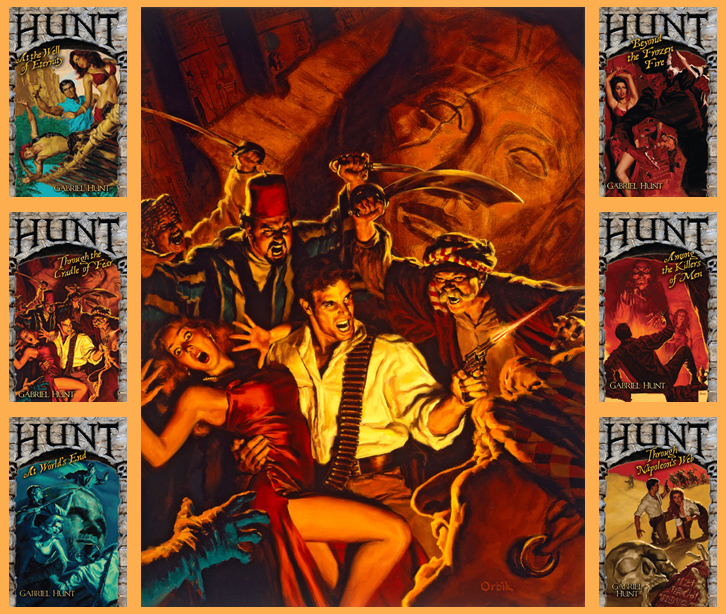 {Painting of Gabriel Hunt in action by
Glenn Orbik
.}
. . . but still one of the things I'm most looking forward to next year:
Charles Ardai
, cocreator and publisher of
Hard Case Crime
, is starting a new series. Cast in the mold of
H. Rider Haggard
and
Edgar Rice Burroughs
, the Hunt for Adventure series will follow intrepid explorer Gabriel Hunt as he traipses around the world in search of the sort of mysterious artifacts that have thrilled the hearts of adventurers from
Doc Savage
to
Indiana Jones
--not to mention me and my brother, as, swords in hand, we chased each other around the back yard all those years ago.
In a nod to the old
Stratemeyer Syndicate
and its ilk, the Hunt for Adventure novels will all be attributed to Gabriel Hunt himself, though presumably the writers behind the house name will include at least a handful familiar from the Hard Case line. While visiting my parents' house recently, I was looking through my stacks of old novels featuring Doc Savage and
the Avenger
; if Ardai can generate anything like the excitement I felt as a twelve-year-old on discovering those books, the Hunt for Adventure will be well worth my time.
The first book is scheduled for publication in May; if you want more information, you can
sign up for a mailing list here
.